Glen Cove - Rockport, Maine
The Camera operates every day and the web page is
automaticallyrefreshed every 5 minutes and the camera
refreshes the shots every 3 minutes.


Clen Cove - Rockport, Maine
---
Portland Head Lighthouse - Portland, Maine
Historian Edward Rowe Snow wrote, "Portland Head and its light seem to symbolize the state of Maine -- rocky coast, breaking waves, sparkling water and clear, pure salt air." The hundreds of thousands of people who visit Portland Head each year would agree; this is one of the most strikingly beautiful lighthouse locations in New England.


Portland Head Lighthouse - Portland, Maine
---
Pemaquid Lighthouse - Bristol, Maine
The camera location is provided courtesy of the Sea Gull Restaurant and Shop. The light is a fully functional Coast Guard operated navigation aid that flashes a single white flash every 6 seconds. The grounds around the light are approximately 35 feet above sea level. The beautiful rock formations seen on many photographs of the light are just out of the view of the camera.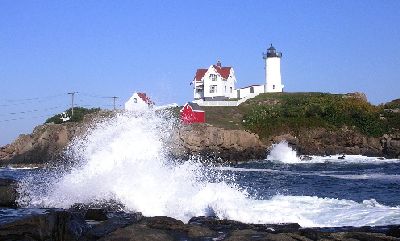 Pemaquid Lighthouse - Bristol, Maine
---
Penobscot Bay - Belfast, Maine
From Comfort Inn's Webcam on Rt. 1 in Belfast, Maine.
The Award-winning Comfort Inn Ocean's Edge is in the heart of Maine's Mid-coast. Every room has a view of beautiful Penobscot Bay. The inn is a short drive to many of Maine's most picturesque coastal villages and harbors including Belfast, Camden, Castine, Boothbay Harbor and Bar Harbor. Acadia National Park is only 55 miles away. Fort Knox and Penobscot Narrows Bridge and Observatory is just 15 minutes. Go birding at nearby Sear's Island one of the East Coast's only uninhabited islands and home to over 160 species of birds.


Penobscot Bay Webcam - Belfast, Maine
Sponsored by Comfort Inn
"I've often thought if someone were coming to visit America for the first time,
I'd send them to Rockport.....Camden...and Penobscot Bay
the late Charles Kuralt, in an interview in TV Guide
---
Southport Island Web Cam
Southport Island is in the Boothbay area which is in midcoast Maine. The live Webcam is on the north side of Southport Island, ME and it will refresh every few seconds. Images begin 15 minutes before sunrise and ends 15 minutes after sunset.
Southport Island Web Cam
---
Popham Beach Web Cam
Popham Beach is home to Popham Beach State Park and is located at the mouth of the Kennebec River. Popham Beach State Park is truly one of Maine's rare geologic landforms that features a long stretch of sand beach. Page also shows local weather & tides.
Popham Beach Web Cam
---
Falmouth Foreside Webcam
Sponsored by Portland Yacht Club
Island and harbor views plus local weather & tides.


Falmouth Foreside Webcam Falmouth Maine
---
Harbor Every Minute Web Cam
Sponsored by Wright's Gallery
Cape Porpoise Harbor images update every minute
Plus tide times and weather updates!
Harbor Every Minute Web Cam
---
Camden Harbor, Maine
Village Soup's Harbor Cam
Enjoy a view from Atlantica on Bayview Wharf
Camden Harbor Web Cam
---
Rockland Breakwater
Village Soup's Rockland Breakwater Cam
Enjoy this view from the Rockland Breakwater Lighthouse,
overlooking Rockland Harbor and the 3/4-mile long breakwater.
Rockland Breakwater Cam
---
Belfast Harbor, Maine
Village Soup's Belfast Harbor Cam
This camera is located on the Maineport Towboats, Inc. building
on Marshall's Wharf in Belfast, Maine
overlooking activity in the Belfast Harbor.
The camera is on the window ledge of CoastWise Realty's
office on Marshall Wharf.
Belfast Harbor Cam
---
Wells, Maine WebCam
WebCam view is mainly southwest looking over the
Rachel Carson Wildlife Refuge. Here you can observe the changing
tides as well as beautiful sunsets. Mount Agamenticus in York can
be observed in the distance. At times the camera view will change to
a northerly view with Wells Harbor in the distance and easterly views
with distant ocean views and sunrises.
Wells Web Cam
---
Views of Acadia National Park
Views of Acadia National Park
from Bar Harbor, Maine
Acadia National Park Web Cam
---
Gooch's Beach Web Cam
Sponsored by Seaside Motor Inn & Cottages
Continuous Views from Kennebunk Beach
My most recent addition - quickly becoming my favorite!
Gooch's Beach Web Cam
---
Walker's Point Panorama
The summer home of George Bush
photographed at sunrise 9/7/03
Walker's Point Panorama
---
Kittery Point Panorama
Photographed April, 2003, with views of Whaleback
Lighthouse in the distance.
Kittery Point Panorama
---
The Boats at Gooch's Creek
Photographed 7/31/2002
The Boats at Gooch's Creek